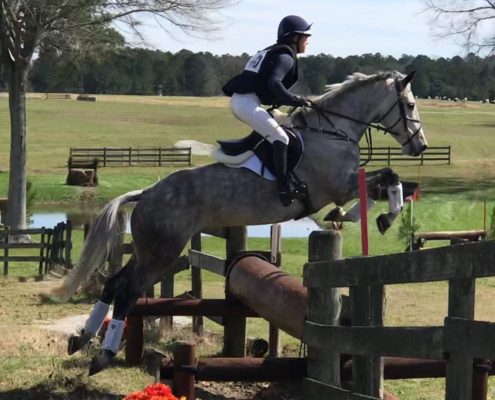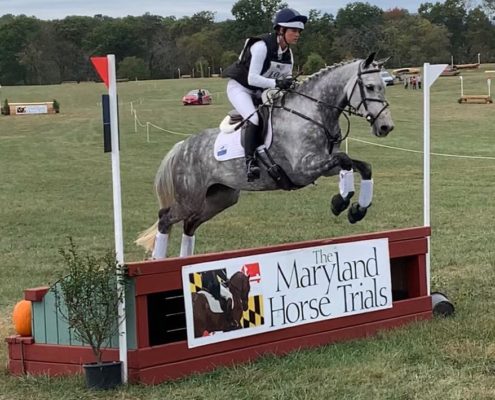 Cheeky Girl – "Gemma" is a 2013 Holsteiner mare imported from Dirk Schrade in February 2019 and is owned by Arnold Sekreve. Gemma has a great demeanor and has shown a smart willing personality under saddle. She made her Eventing debut in the spring of 2019 and has had many top placings, with a move up to Training level in the Fall of 2019. Gemma is on the smaller side of our string but makes up for it with a large presence. She's a complete gem to handle and takes everything thrown at her in stride, always loving a good scratch when being tucked in at night.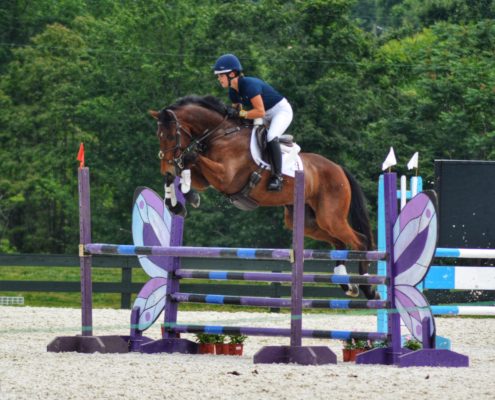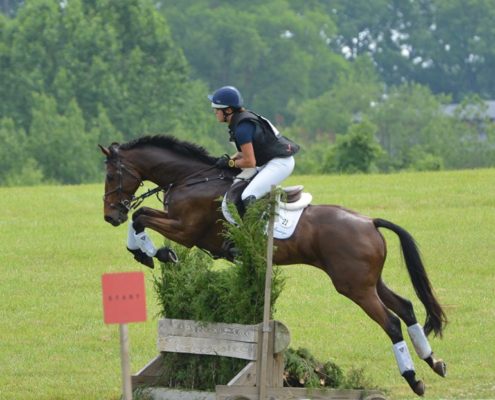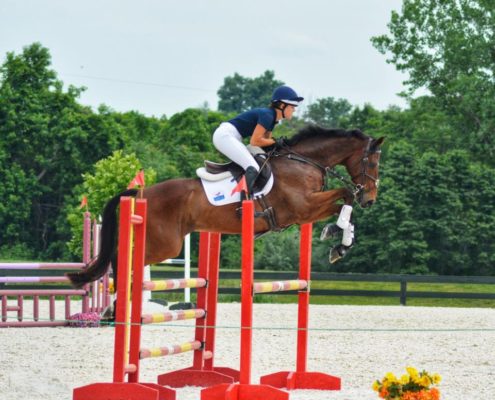 Cherished Friend – "Buddy" is a 2008 OTTB gelding owned by Jenny Furlow. Buddy has extensive experience at the Novice level with Kate Samuels and Leslie Lamb and has a great foundation thanks to their work. Buddy is a very easy going guy and is a great horse to have in the barn, living up to his name in every way. He'll be making his Training level debut and will continue to move up in the 2019 season as he is ready. Often referred to as "perfect buddy" he is easily a barn favorite and we're so pleased Jenny has trusted us with him and are excited to see where he goes.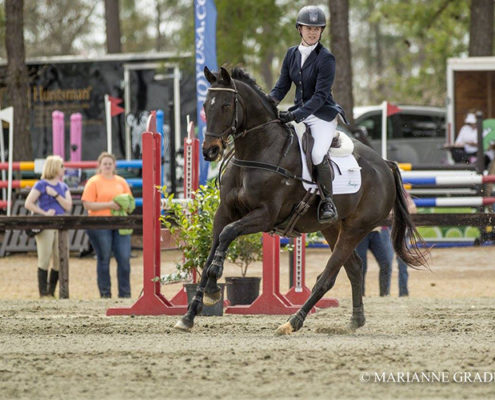 Fernhill Fearles "Sparky" – "Sparky" is a 2000, 16.0 hand Irish Thoroughbred gelding.  In August 2016, Gabby announced that she was extremely excited that she was given the ride on Kim Severson's 4* and 2014 Normandy World Championship horse, Fernhill Fearless. She was truly humbled by Kim's generosity and beyond grateful for the opportunity. Just as the Ligon family graciously gave Sparky to Kim after Nina Ligon competed him in the 2012 London Olympics representing Thailand, Kim had passed him on to Gabby at a time in her Eventing career where she will be able to benefit infinitely from Sparky's experience.  Gabby completed the end of a short 2016 season with Sparky at the Virginia CIC 2* and had an active start to the 2017 season.  In May 2017, Sparky suffered a fatal stable accident at home and although Gabby only had him for a brief period, she learned so much from him and loved and respected every bit of who he was, every day. He was a true Fearless champion, and was sweet and kind while being a tough little fighter through and through.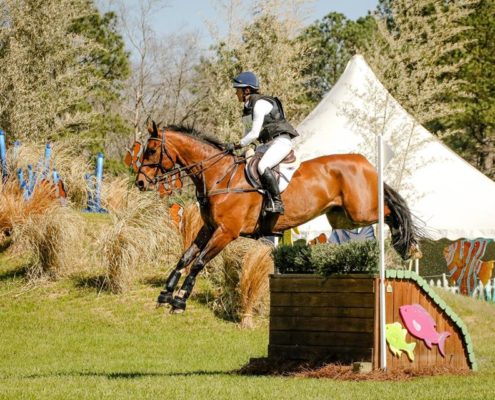 Governor SGS "Governor" – "Governor" is a 2011, 17 hand  KWPN gelding by Idocus Crown out of Jaermeester Ster, owned by GDE.  Governor debuted his Eventing career with Gabby in the Spring of 2016 and continued to excel in his new profession through 2017 with moving up to Preliminary.  Governor finished his first CCI2*-L in the fall of 2017 and moved up to Intermediate in the fall of 2018 through the fist half of 2019.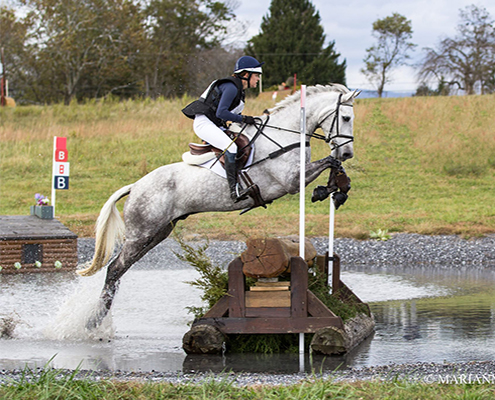 Luck of the Draw "Ben" – "Ben" is a 2009, 16 hand Connemara/Thoroughbred gelding by ArdCeltic Art bred and owned by Cheryl Baugher.  Ben debuted his Eventing career with Gabby in March 2016 and completed a successful year at the Young Event Horse Championships in the 5 year old division at Fair Hill.  He then moved up to Preliminary in 2017 and finished the season after completing his first CCI* at Virginia Horse Trials in the Fall.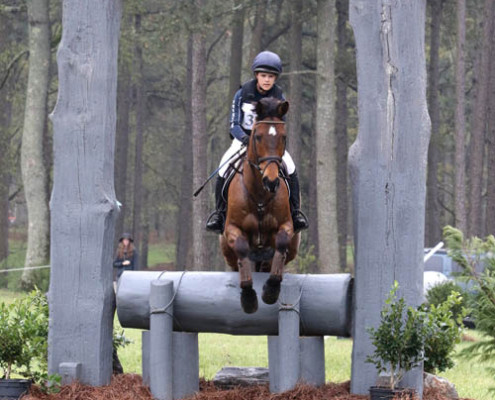 Infinite Truth "Harry" – "Harry" is a 2006 16.2 hand Thoroughbred gelding by Salute the Truth, bred and owned by Anne Riley.  Harry has competed through the 2** level under Liz Riley while completing his first Advance horse trial at Millbrook in August 2015.  Gabby spent the remainder of the 2015 season competing Harry, finishing 9th in the Intermediate at Virginia Horse Trials in October 2015.  For the beginning of the 2016 season, Gabby competed Harry in the Pine Top CIC* in February while then going to Full Gallop in Aiken, South Carolina in the Intermediate with a 5th place finish.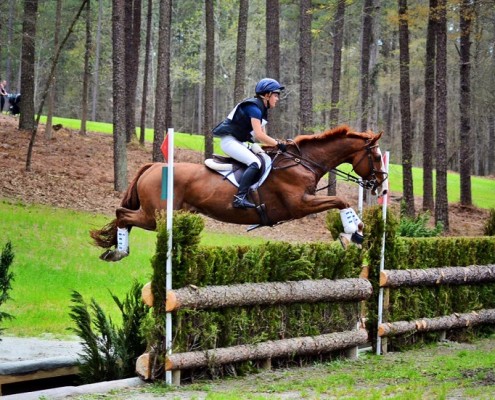 Phineas Flynn "Flynn" – "Flynn" is a 2008 16.2 hand Thoroughbred gelding by Palace Dijon, also bred and owned by Anne Riley.  Flynn competed through the Preliminary level under Liz Riley through the summer of 2015.  Gabby spent the remainder of the 2015 season competing Flynn at the Preliminary level, finishing 4th in the Preliminary at Virginia Horse Trials in October 2015.  For the beginning of the 2016 season, Gabby completed Flynn's first CIC* at Pine Top in Thomson, Georgia in February and then finished in 5th in the Preliminary at Full Gallop in Aiken, South Carolina.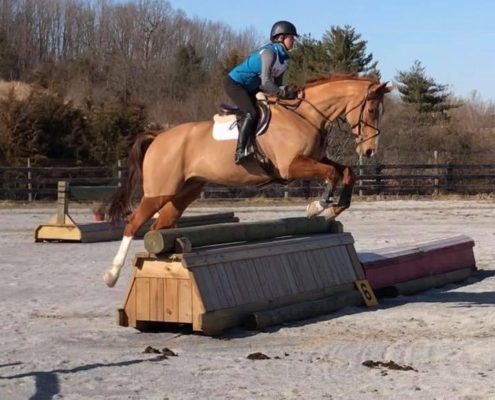 Rock On – "Rocky" is a 2007, 17.1 hand Oldenburg- Thoroughbred homebred and owned by Cathy Pagliuca. Raised doing the Hunter/Jumpers, Rocky came to GDE in the beginning of 2018 to train to Event. He always scored in the 20's on the flat, show jumping double clear, and gained XC experience. Rocky now lives with his new owner in the central Virginia area.